Black Friday DEAL good through December 15, 2023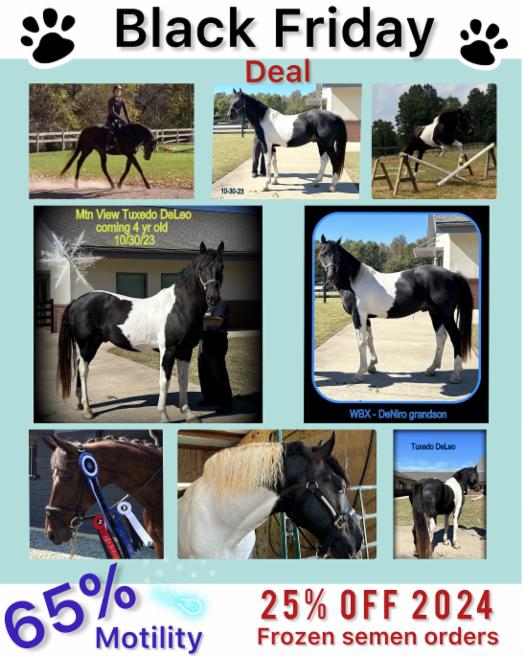 Coming 4 year old Pinto WBX
Mtn View Tuxedo DeLeo
DeNiro Bloodlines
Below MVSD Tuxedo DeLeo 10-22-23
****Disease free of PSSM1 and WFFS/DNA tested Tt/EE/Aa****



Here is our spunky new Pinto WBX colt out of Oldenburg mare SPELLBOUND (Sandro Hit) and Tuxedo Joe. Meet "Tuxedo Saber Hit"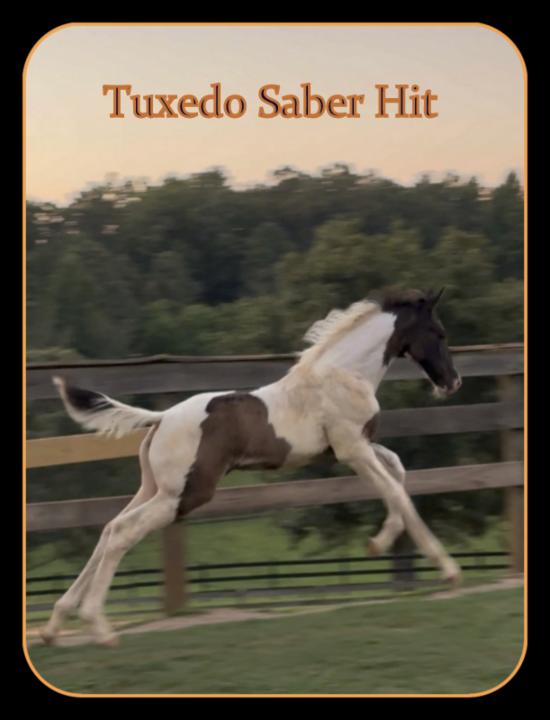 This boy has legs for days and he can really move. Check him out here:

https://youtu.be/RSk7IkJ4FTY


Here's our Spotted Warmblood colt out of Diamonds are Forever (Hanoverian) and

Mtn View Tuxedo Joe

foaled 5-

17-23
Tuxedo DeNali


Here's DeNali... https://youtu.be/NFy-z92PKAo
Pinto Warmblood fillies
Sashay DeVila and Serafina DeVoe are 3/4 WB, 1/4 Spotted Draft cross fillies born out of Mtn View Villara and Sempatico M embryos. Below at 3 months old and together at 8 months old. Now as yearlings, they are weaned, UTD, SWANA Passports and Coggins ready.
New videos Oct. 2023:
https://youtube.com/shorts/hewmdzum4kg?si=5McGT2HX9yEL28iI
https://youtu.be/LlmFP-hUL5M?si=BHfaCg0VnHqx79NV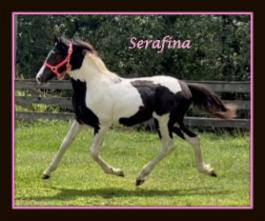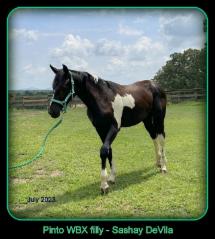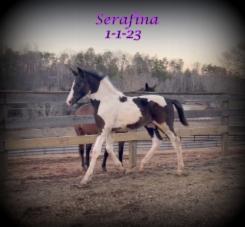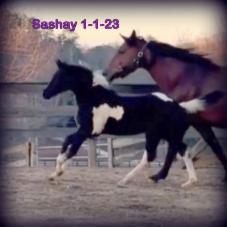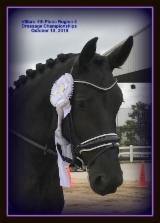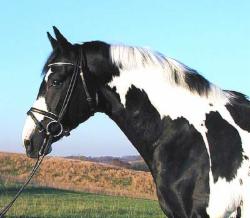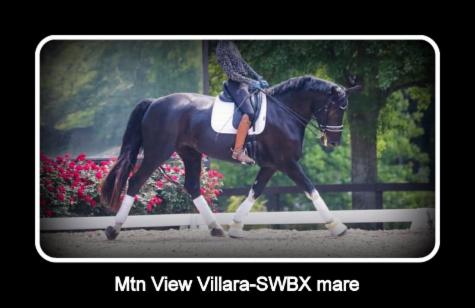 Above, October 2019, Villara competed out of 30 plus entries and came in 4th Place, Level 1 Open, Area 3 Regionals USDF in Conyers, GA. As a result, she qualified and was invited to Nationals in KY.
SOLD:
8 month old Bay Spotted DraftX WB colt "Mtn View Tuxedo
DELOREAN" out of Wh Dior (DeNiro) and our resident stallion, Tuxedo Joe foaled 3/21/22, now sold 11/2022. Congrats to Ansley K. who will be developing DeLorean into a future hunter jumper. Here is his latest video.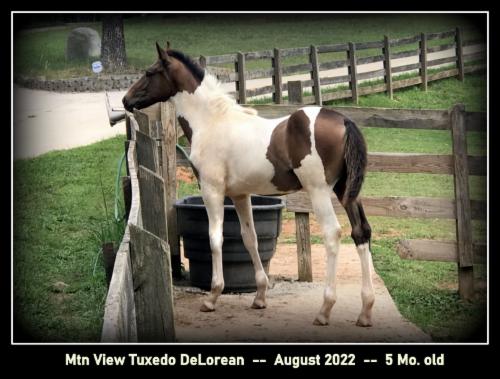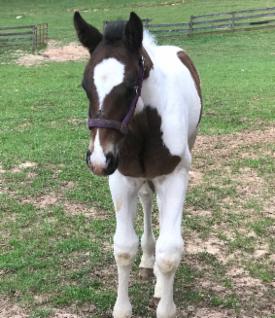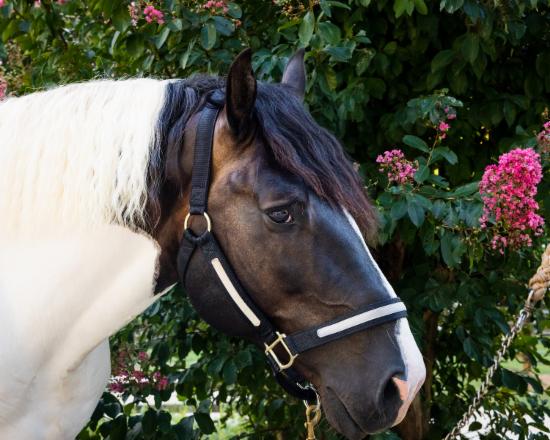 Mtn View Tuxedo Joe Premium NASDHA stallion
GREAT NEWS for fans of Painted Forest Lance and SHAQ. Lance has teamed up with a famous NBA player for his debut behind the big lens for a nationwide commercial! Lance was amazing at the shoot! Lance followed me through a narrow doorway into the dark studio filled with people, circling spot lights, backdrops, stage lights, flying birds, multiple cameras, cords on the floors, and everything you could possibly imagine that would make most horses lose it, but not Lance. You'd think he had been doing this his whole life, cool as a cucumber!!! We felt like proud parents watching Lance perform perfectly under those conditions with an actress that had no horse handling skills before we worked with her on that day of the shoot. It was a fantastic day with great people and we made some great friends as well. EVERYBODY LOVED LANCE !!! Stay tuned for details on Lance's national commercial.
***Here's the youtube link to Lance in Shaq's Commercial: http://youtu.be/jpGmB8tOAXQ

Spotted Warmblood, Pinto Warmblood, Spotted Draft and Spotted Draft WBX Babies