**October

2019
New Pictures, Events and Videos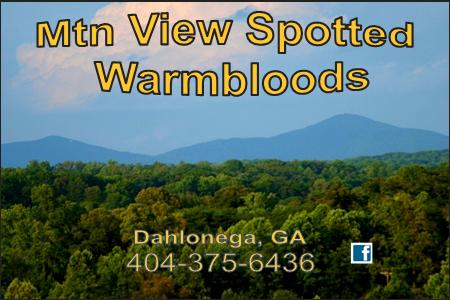 Mtn View Tuxedo Joe (EE/TT)
NASDHA Premium stallion Standing at Stud for Shipped semen Fresh or Frozen and On-Farm AI available. Last remaining and only DBL Homozygous (disease-free) Spotted Draft stallion out of premium bloodlines "Painted Forest Lance" and "Hoag's Chasity".


At MVSD, we specialize in disease-free breeding!!
Mtn View Tuxedo JOE
comes from Genetically DNA mapped sire and dam who were both tested negative for PSSM, HYPP, JEB and Herda which are common among big draft horse breeds. Joe himself tested negative for Equine Viral Arteritis (EVA) as well as CEM. He is proven safe for your mares and brings only the best in Color, Conformation and Disposition. His pedigree is from two of the most sought after bloodlines in the NASDHA breed and with it, the capability to produce far bigger offspring of at least 17-18 hands.
"Dressage Champion SOLD"
MTN VIEW VILLARA


5 year old Homozygous Black Tobiano


Swedish WBX Mare at
16.3 hands
***Come out and cheer Villara on October 13th, 2019 at the Conyers Olympic Horse Park for the Area 3 Dressage Regional Championships.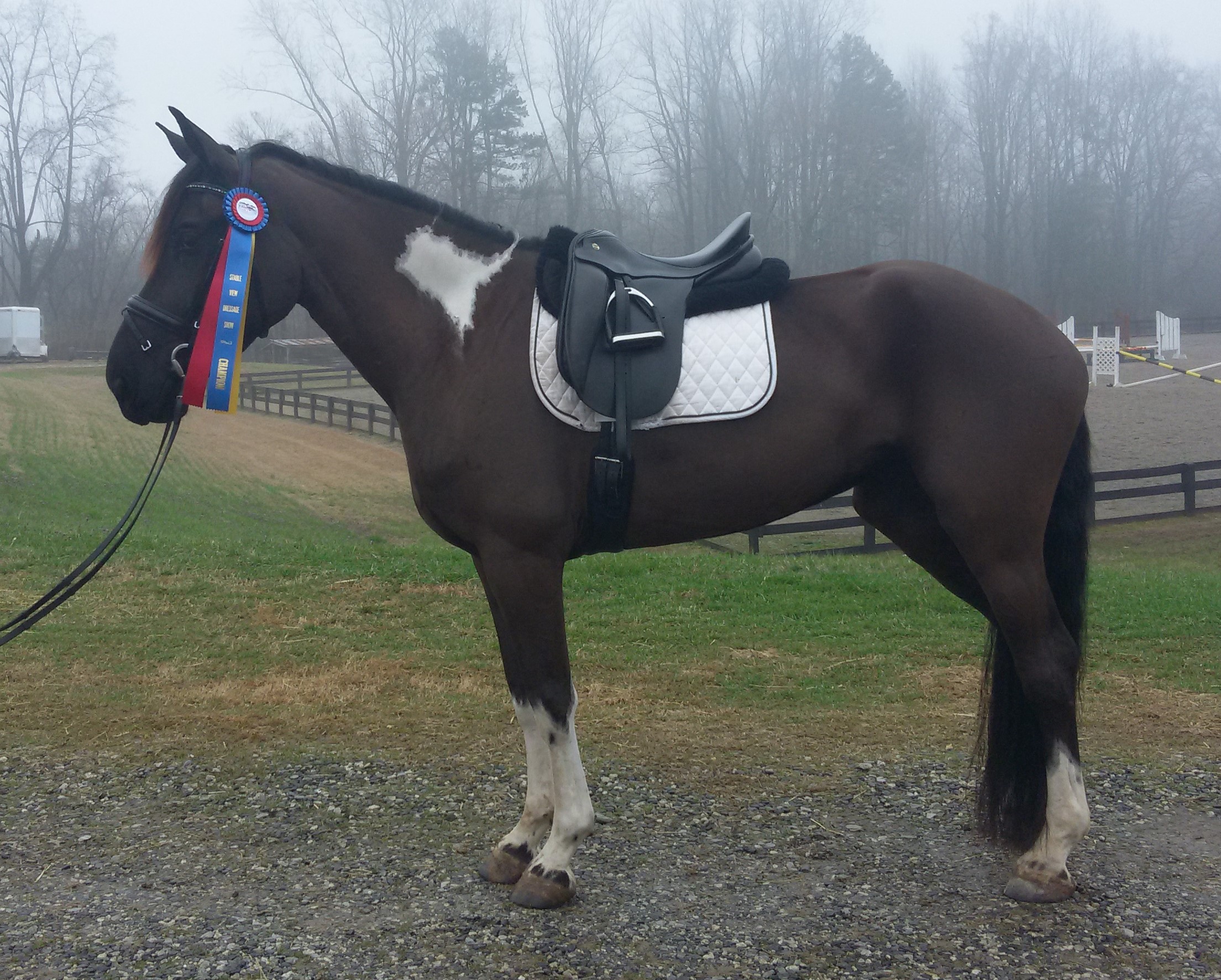 Villara Grand Champion Level 1 Dressage and Reserve Champion Level 1 Dressage--Stable View "I Love Dressage"; Aiken, SC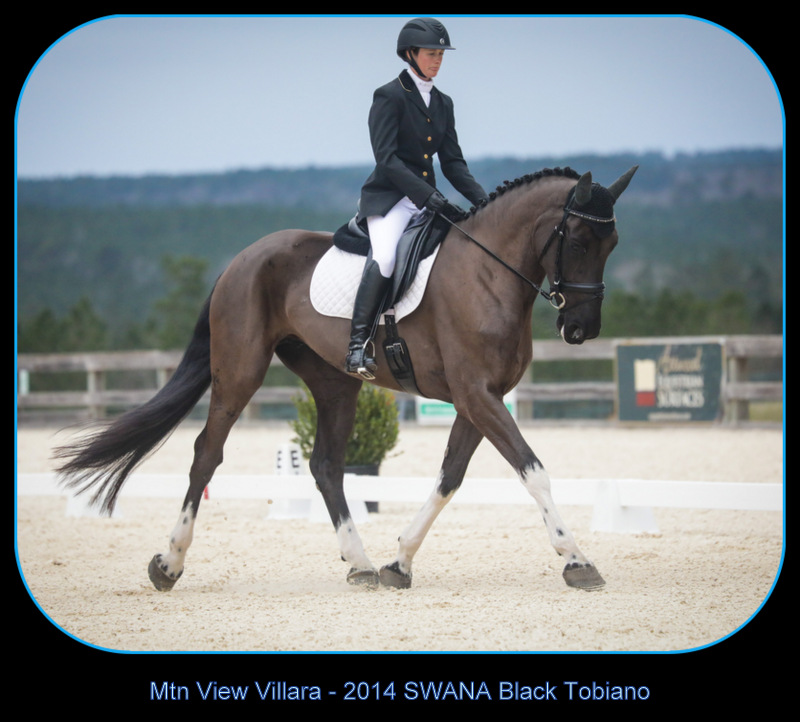 Villara (EE/Tt) is out of Premium Spotted Draft (NASDHA) mare IV Hoag's Chasity and Imported Swedish Warmblood (SWANA) black stallion
Donnermeyer-featured below
. Villara is a super fancy mover with an impressive pedigree, including DeNiro, Donnerhall and Weltmeyer. Villara's Sire featured below. **
See more pictures of Villara on our Warmblood and Foals for Sale pages, she's a beauty!!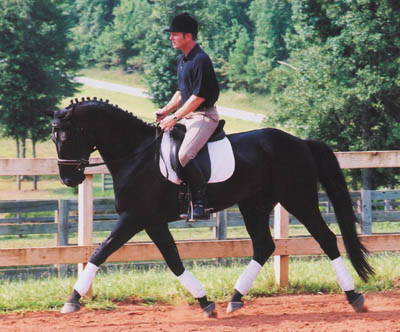 Bombproof NASDHA gelding
SOLD!!
Mtn View Lazaro Showtime---more videos listed on "Foals For Sale" page. He's the last Full Draft NASDHA gelding 17+ hand foal out of Lance. Best trail riding companion ever!!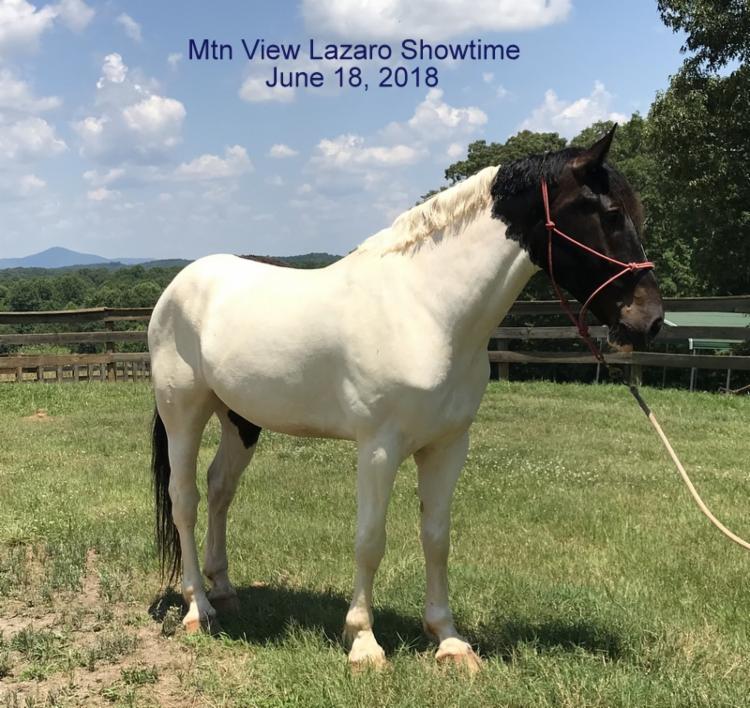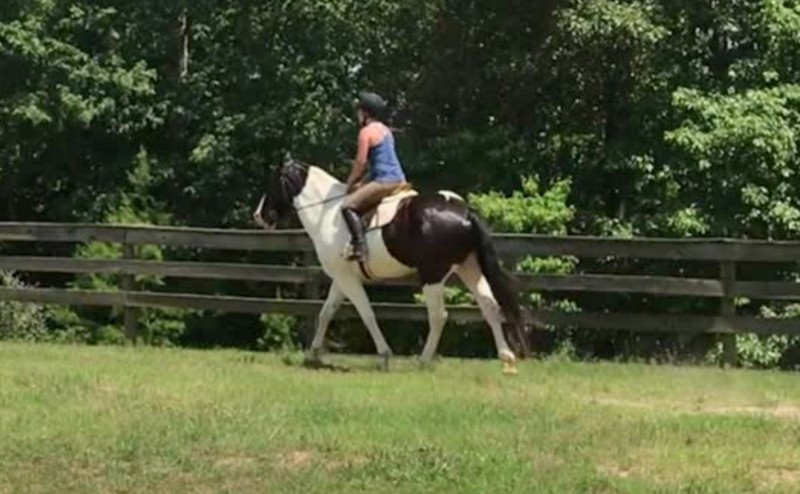 Our brother and sister team that was SOLD to Florida's Circus Hollywood 5 years ago are now performing beautifully up and down the East coast!! We saw them perform during the Georgia State Fair in October at the Atlanta Motor Speedway

Some of our older Lance foals. Dalton-Bay spotted Warmblood gelding and Legacy
(RIP)
-Full NASDHA stallion. Excellent
!!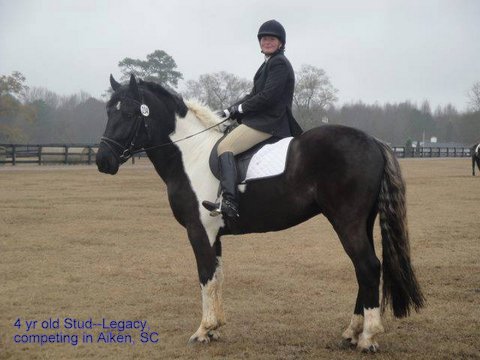 GREAT NEWS for fans of Painted Forest Lance and SHAQ. Lance has teamed up with a famous NBA player for his debut behind the big lens for a nationwide commercial! Lance was amazing at the shoot! Lance followed me through a narrow doorway into the dark studio filled with people, circling spot lights, backdrops, stage lights, flying birds, multiple cameras, cords on the floors, and everything you could possibly imagine that would make most horses lose it, but not Lance. You'd think he had been doing this his whole life, cool as a cucumber!!! We felt like proud parents watching Lance perform perfectly under those conditions with an actress that had no horse handling skills before we worked with her on that day of the shoot. It was a fantastic day with great people and we made some great friends as well. EVERYBODY LOVED LANCE !!! Stay tuned for details on Lance's new adventure and the release date of the national commercial. Hint: It's coming in February. We couldn't have asked for a better day as it combined both our favorite interests, Horses and Basketball.

***Here's the youtube link to Lance in Shaq's Commercial:

http://youtu.be/jpGmB8tOAXQ

Sport Horse, Warmblood, and Spotted Draft Babies